Expecting the Unexpected:
Vigilant Robot Swarms for Secure Infrastructure
As robot teams, or 'swarms', move from the laboratory into the real world there is a clear opportunity to enhance monitoring of critical national infrastructure. Our work focuses on how diverse types of robots, in form and behaviour, can contribute to enhanced collective awareness of environments. Although we have an industry-driven focus, our work is generally relevant to robots for environmental monitoring, which could be deployed for pollution detection, farming/agriculture, and elsewhere.
Our field trials are carried out at Bristol's Fenswood Farm facility in Long Ashton, Somerset (below left). We also have access to the Bristol Robotics Laboratory (below centre), which is on the UWE campus in north Bristol. Our day-to-day desk work is carried out on the Clifton campus (below right) in the centre of Bristol. Below we show some of our ongoing research themes.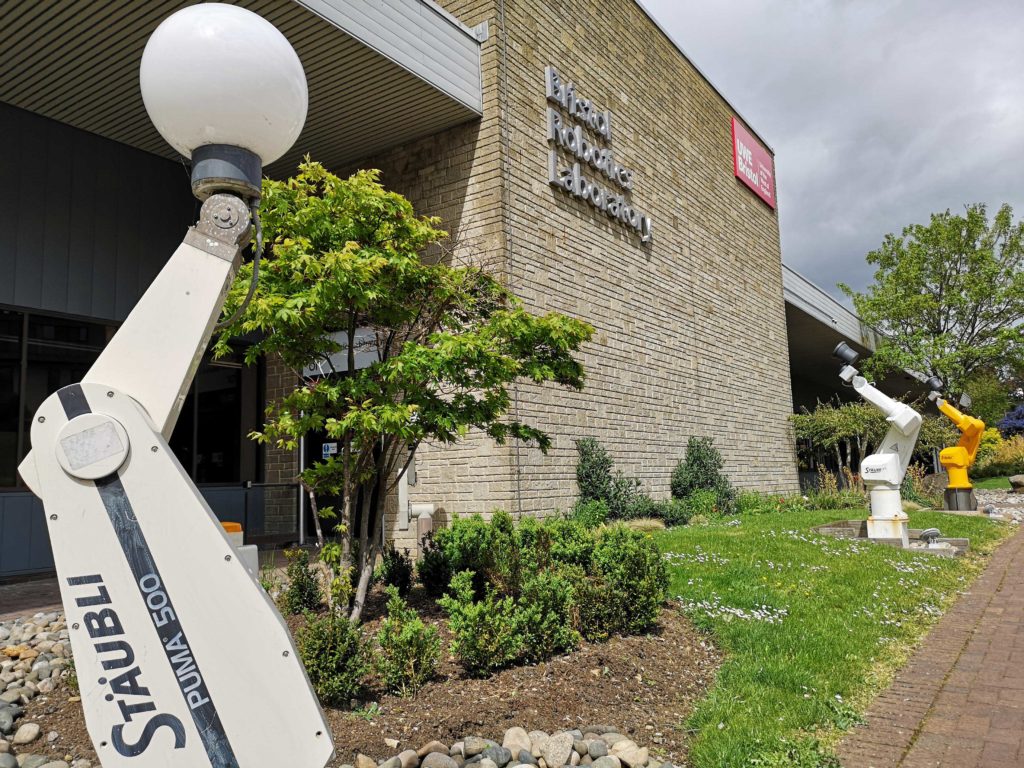 Robots
Our group primarily works with rovers (ground-based robots), and we have obtained several 'Leo Rovers' for our experiments. Previously we have also worked with 'Kilobots' for conceptual swarm research. As our research develops, we will examine heterogeneous swarms (i.e. different robot types) including e.g. quadruped (4-legged) robots and drones in our swarm deployments.
Effective Patrolling Behaviours
We want to deploy teams of robots into real-world environments to monitor activity to ensure anything anomalous can be detected and investigated. In a multi-robot / swarm context, there is a clear opportunity to exploit cooperation between robots to verify anomalous findings by sending follow-up patrols.
The question of what patrolling behaviours best enable this remains quite open, especially when robots can have heterogeneous paths, and are operating in an adversarial context.
We investigate patrolling behaviours in simulation (e.g. Gazebo) before testing controllers on real robots.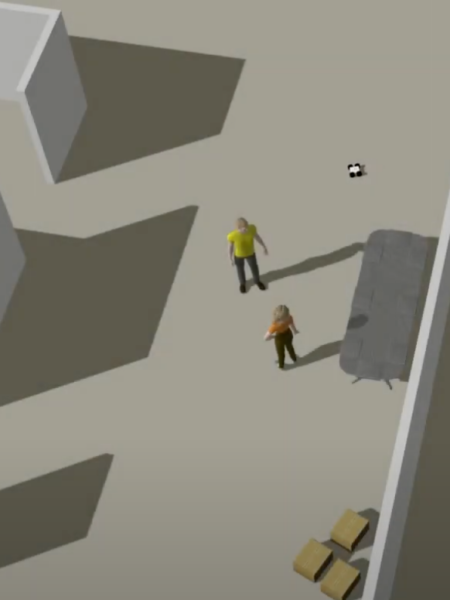 Lead Researcher: James Ward
Co-Supervisor:
Dr Peter Martin
Funding
FARSCOPE CDT
Managing the indoor-outdoor transition
Patrolling robots can work in both indoor and outdoor contexts, switching between them as they move in and around complex building sites. However, it is an engineering challenge to obtain effective SLAM (simultaneous localisation and mapping) when switching between indoors and outdoors – e.g. lighting conditions may drastically change, GNSS will be available/denied, and so forth.
There are also opportunities to improve SLAM using the presence of multiple robots which can share their information. We are focused on real-world swarm engineering that can operate both indoors and outdoors.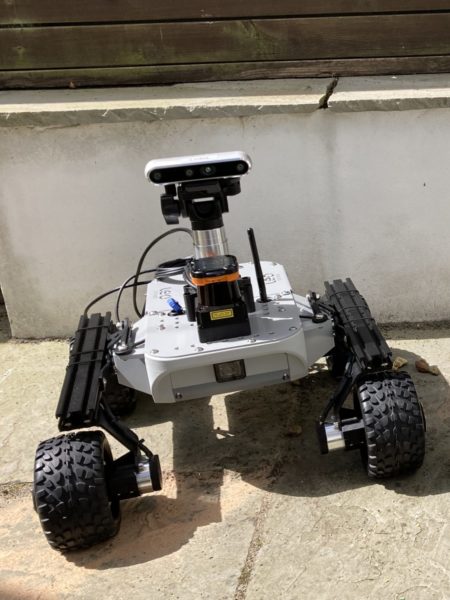 Lead Researcher: Gjosse Zijlstra
Co-Supervisor:
Prof Tom Scott
Funding
FARSCOPE CDT
Evolving behavioural plasticity
Based on our understanding of behavioural biology, some animals demonstrate phenotypic plasticity (flexibility) in their behavioural types, for example to be 'bold' or 'shy' in how they respond to risk.
We are investigating whether and how behavioural plasticity in these fundamental 'personality types' can emerge in evolutionary swarm robotics. We are evolving controllers in simulated environments (initially using the 'RoboRobo' simulator of Bredeche et al., pictured), and then plan to demonstrate the relevance of behavioural plasticity in real robots. These robots may be Leo Rovers (pictured above) or more typical lab-based swarm robots.
Lead Researcher: Dawood Basharat
Co-Supervisor:
Dr Helmut Hauser
Funding
FARSCOPE CDT