Vigilant Robot Swarms for Environmental Monitoring
As robot teams, or 'swarms', move from the laboratory into the real world there is a clear opportunity to enhance the monitoring of different environments, for purposes ranging from scientific surveys to security. Our work focuses on how diverse types of robots, in form and behaviour, can contribute to enhanced collective awareness of a location. We are mostly focused on using teams of ground-based rovers.
Our field trials are carried out at Bristol's Fenswood Farm facility in Long Ashton, Somerset (below left). We also have access to the Bristol Robotics Laboratory (below centre), which is on the UWE campus in north Bristol. Our day-to-day desk work is carried out on the Clifton campus (below right) in the centre of Bristol. Below we show some of our ongoing research themes.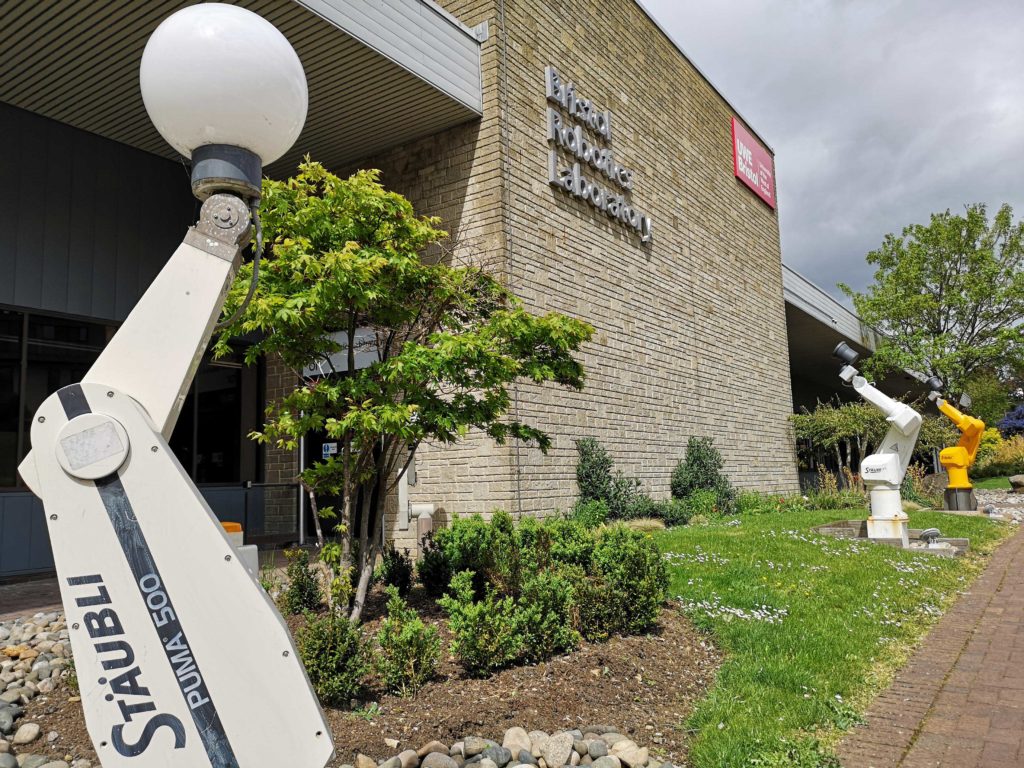 Robots
Our group primarily works with rovers (ground-based robots), and we have obtained several 'Leo Rovers' for our experiments. Previously we have also worked with 'Kilobots' for conceptual swarm research. As our research develops, we will examine heterogeneous swarms (i.e. different robot types) including e.g. quadruped (4-legged) robots and drones in our swarm deployments.
Effective Patrolling Behaviours
We want to deploy teams of robots into real-world environments to monitor activity to ensure anything anomalous can be detected and investigated. In a multi-robot / swarm context, there is a clear opportunity to exploit cooperation between robots to verify anomalous findings by sending follow-up patrols.
There is a class of 'adversarial patrolling' algorithms that have already been developed, but not benchmarked robustly so far. We are interested in using technologies such as Graph Neural Networks (GNNs) to control swarms.
We investigate patrolling behaviours in simulation (e.g. ROS 'Patrol Sim') before testing controllers on real robots.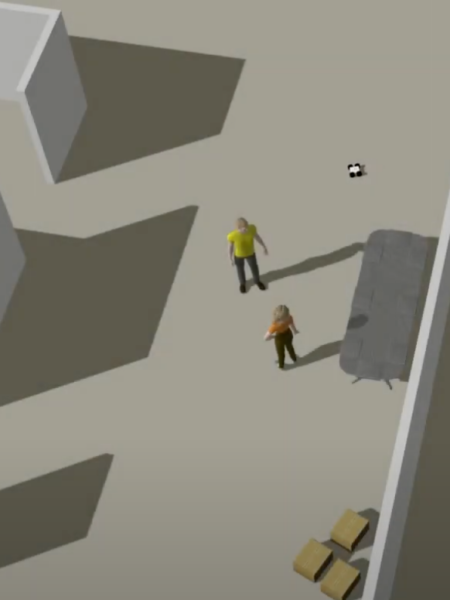 Lead Researcher: James Ward
Co-Supervisor:
Dr Ryan McConville
Funding
FARSCOPE CDT
Exploring Frontiers in Electrostatics Measurement
Atmospheric electricity is not very well understood – least of all on other planets such as Mars. There are ongoing scientific efforts to understand the influence of electrostatics on weather, as well as their impact on future habitation on Mars.
We are exploring new frontiers in electrostatic measurement by putting sensors on mobile robots, who can plan their collective movement to obtain new insight into electrostatic phenomena.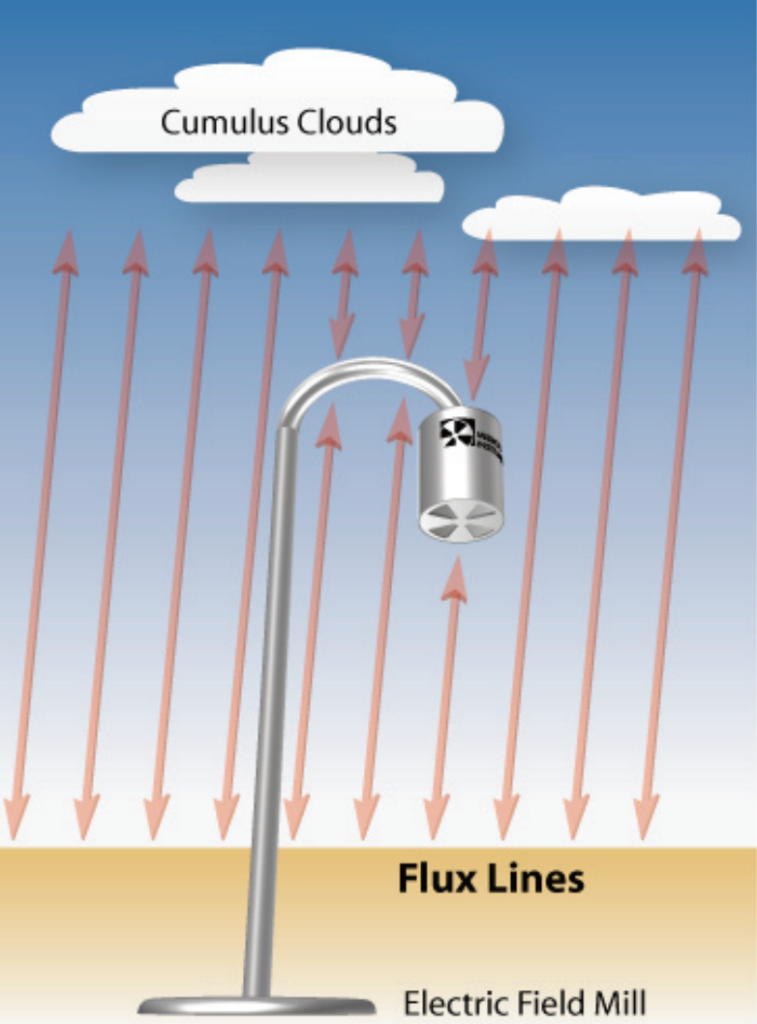 Lead Researcher: Gjosse Zijlstra
Co-Supervisor:
Prof Karen Aplin
Funding
FARSCOPE CDT
Evolving Behavioural Plasticity
Based on our understanding of behavioural biology, some animals demonstrate phenotypic plasticity (flexibility) in their behavioural types, for example to be 'bold' or 'shy' in how they respond to risk.
We are investigating whether and how behavioural plasticity in these fundamental 'personality types' can emerge in evolutionary swarm robotics. We are evolving controllers in simulated environments, and then plan to combine this with morphological (shape) plasticity in real robots.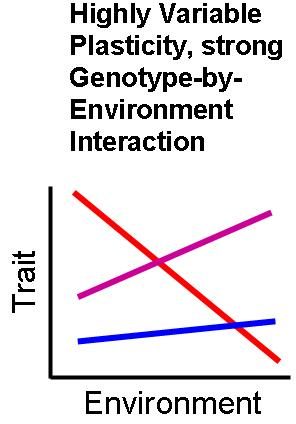 Lead Researcher: Dawood Basharat
Co-Supervisor:
Dr Helmut Hauser
Funding
FARSCOPE CDT
Investigating Functional Heterogeneity and Behavioural Plasticity
Functional heterogeneity – i.e. differences within groups that have an adaptive, functional purpose – is increasingly recognised as important in animal groups. We want to demonstrate this principle in robot swarms.
At the same time, the ability of a swarm to adapt the distribution of behavioural traits will be important in dynamic environments. Connor and Jay are working together to demonstrate these concepts in real robot field trials.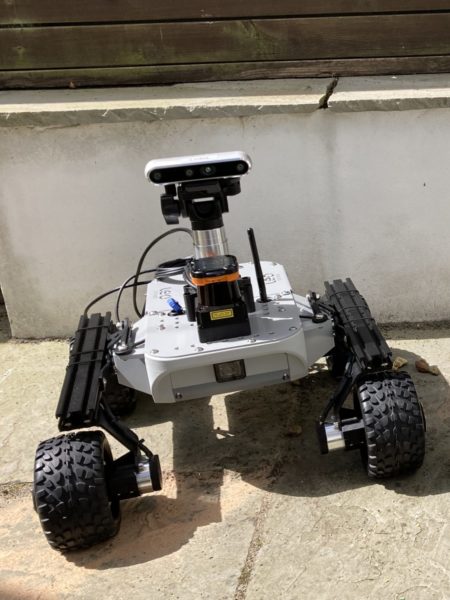 Lead Researchers: Connor York and Jay Hamill
Co-Supervisor:
Dr Paul O'Dowd
Funding
FCDO Services
Behavioural Heterogeneity for Enhanced Collective Decision-Making
Making decisions collectively is an important capability for many animal groups, such as ant or honeybee colonies. Bioinspired collective decision-making algorithms have been studied in simulated and real robot swarms.
We are investigating whether and how heterogeneity in behavioural traits will improve collective decision-making in robot swarms, in the context of the distributed patrolling problem and deciding where anomalies have been found.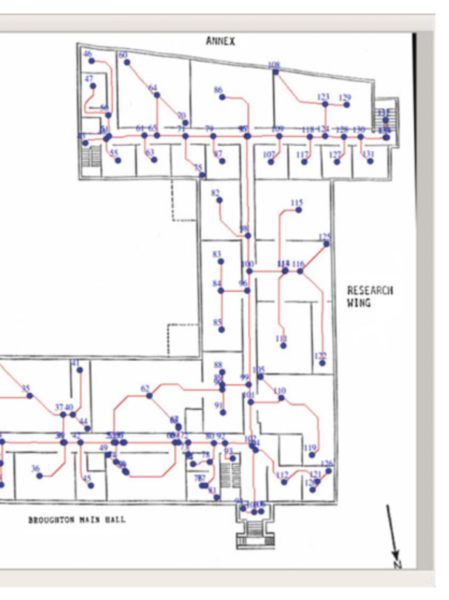 Lead Researcher: Zachary Madin
Co-Supervisor:
Prof Jonathan Lawry
Funding
UoB Scholarship